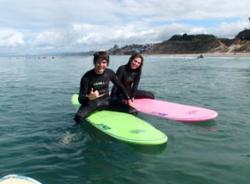 Santa Cruz, CA (PRWEB) June 15, 2011
Families keen on learning to surf this summer will find quality instruction with surf camps in the iconic beach town of Santa Cruz. Located on Californias Central Coast, approximately 40 miles north of Monterey and 70 miles south of San Francisco, Santa Cruz is home to surfboard shapers, wetsuit makers, a surfing museum, and some of the best surf breaks on the West Coast (including some great beginner waves). Two surf schoolsClub Ed Surf School and Richard Schmidt Surf Schoolhave been teaching surfing for two decades and both offer week-long surf camps for kids and adults throughout the summer. Two hour group lessons and private lessons are also available.
With Club Ed Surf Camps, campers can camp on the beach and surf to their hearts content with the waves just steps from their campsite. Beginning and experienced surfers alike progress quickly under the instruction of founder Ed Guzman and his team. The camp's location on the Monterey Bay National Marine Sanctuary provides the opportunity to catch sight of dolphins, seals, and sea otters while skimming the waves. In addition to surfing, campers can play ping-pong, beach volleyball, or relax by the campfire. Club Ed also leads excursions to the Santa Cruz Beach Boardwalk, Santa Cruz Surfing Museum, Arrow Surfboard Factory and summer movies.
The camps are $ 1,090 per week and includes six days and five nights of camping, daily surf instruction, three meals each day, a professional massage, and an edited video with highlights from the week. Club Ed also provides surfboards, wetsuits, and tents. The first camp of the summer, which runs June 19-24, is designated for adults only. The remaining six sessions are geared for kids ages 12 and up, although adults are welcome.
Richard Schmidt's surf camps are based out of the KOA Kampground in La Selva Beach near Watsonville, giving campers access to KOA's pool, hot tub, and hot showers. Campers receive five solid days of surfing instruction, with two sessions daily. Campers also receive video coaching in addition to instruction in the water to help them progress more quickly. When theyre not in the water, campers are treated to yoga classes each morning, gourmet meals, sports massage, and tours of the Seymour Long Marine Lab, Santa Cruz Surfing Museum, and Arrow Surfboard Factory. Manresa State Beach is a stones throw away from the campground.
The camps are $ 1,000 per week and include six days and five nights of camping at KOA, daily surf instruction, three meals each day, yoga classes, sports massage, and recreational activities. Richard Schmidt also provides surfboards, wetsuits, tents, and transportation to and from the beach. Beginning June 19, the week-long camps are open to kids ages 10 and up, although adults are welcome. The last camp of the season, August 7-12, of the summer is designated for adults only.
For more information on surfing lessons, surfboard and wetsuit rentals, and surfing-related attractions in Santa Cruz, visit http://www.santacruz.travel or call 800-833-3494.
###
California Waveman drawn to NZ for big wave adventure
Kitesurfing is an adventure watersport that has been described as combining wakeboarding, windsurfing, surfing, paragliding, and gymnastics into one extreme sport. Kitesurfing harnesses the power of the wind to propel a rider across the water on a ...
Read more on Scoop.co.nz (press release)

Trista Fredell and Amy McCarthy Win Life Time Necker Cup Challenge to Earn ...
As well as the tennis, participants can engage in typical Necker Island activities including paddle boarding, Pilates, sailing, kite boarding, wake boarding, snorkeling, massage therapy, parties and more. On the final night, an End of the World party ...
Read more on Business Wire (press release)

Kitesurf Tour Europe attracted 600 riders in 2012
The German surf town is definitely the most extreme kite spot of the Kitesurf Tour Europe. The consumption of drinks and sweets reached 7.500 cans of Red Bull, 5.000 packs of Alpro Soja milk and more than 8.200 Chupa Chups. TV broadcast hit 185 hours ...
Read more on SurferToday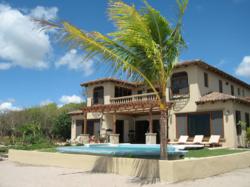 San Francisco, California (PRWEB) December 01, 2011
Surfbreak Rentals publicly announced their new travel website this month, which is dedicated to helping traveling surfers find great places to stay near the worlds best surf breaks and beaches. The entire site design and navigation is based on more than 1500 global surf breaks, which makes surfbreakrentals.com the first vacation rental site that allows users to search for accommodations based on specific beaches and surf breaks.
Surfbreak Rentals has already attracted over 1500 property listings and sparked a buzz among surf communities worldwide. Their rental coverage in certain hard-to-navigate surf destinations, like Nicaragua, is already among the best in the world. And properties are rapidly filling in around other top surf breaks and beaches as the word spreads about this long overdue travel resource.
A New Tool for Casual Beach-Goers and Professional Surfers Alike

Surfers have a knack for finding the best beaches, often years before the rest of the world. This makes Surfbreak Rentals an incredible resource for anyone looking for that perfect rental near one of the worlds most famous or most undiscovered beaches. Surfbreak currently has listings for homes, condos, B&Bs, surf camps, hostels and hotels, so there are options for travelers on any sort of budget. There is also a section to list Local Services, where traveling surfers find things like rides, local hang outs, and after surf activities.
As helpful as Surfbreak Rentals is for everyday beach-goers, the site was originally designed for traveling surfers, so this is where the site really shines. Professional surfer and world traveler Timmy Reyes jumped onboard to help promote the site as soon as he was introduced to it, calling Surfbreak the ultimate surf destination website. Renowned big wave surfer Peter Mel had a similar reaction once he saw the site; After all my years of traveling to the globes premier surf destinations, wishing I had an effortless tool for accommodations, here it is finally - a rental site dedicated to the worlds best surf breaks." Professional surfer and traveling dad Ken Skindog Collins said it most succinctly of all; That site is sick!
This sort of feedback is incredibly important to the Surfbreak Rentals crew because the company views the professional surfing crowd as some of the most critical and demanding in terms of their travel needs. Pro surfers are always searching for a great place to stay near the next big swell or contest, and they often have to make their travel arrangements at a moments notice.
A Valuable Resource for Coastal Property Owners - and Currently Free to List

Surfbreak Rentals has proven to be extremely attractive to coastal property owners and managers because it provides them a platform to showcase the unique location of their property to a targeted user base that is already looking for exactly what they have. With beach rentals making up the single largest category in the vacation rental market, it is often difficult for a home with a prime location near a great beach to stand out amongst the flood of other rentals in their area, at least until now. Initial feedback from property owners is that they are receiving fewer inquiries, but more bookings, from their Surfbreak Rentals listings compared to their listings on other vacation rental sites, which is a testament to Surfbreaks active and targeted user base. Property owners have also enjoyed an incredible deal so far, as they can still list a property for free on Surfbreakrentals.com, which is a $ 300+ value on other vacation rental sites.
Founder Matt Belden Explains the Idea Behind the Site

Ive always dreamed of a super user-friendly site that let me search for rentals by surf break rather than region or city, because finding a great place to stay is a challenge on almost every surf trip I take. For example, a lot of people know the surf spot Colorados in Nicaragua, but not many would know to search for rental listings in the Tola Province. So with Surfbreak Rentals weve streamlined this clunky search process by building the whole site around specific surf breaks. Its a simple twist, but it makes all the difference in the world to people that care first and foremost about the beaches or surf breaks theyre traveling to.
About Surfbreak Rentals

Surfbreak Rentals was founded by a group of Northern California surfers with a passion for traveling and technology. After years of struggling to find great places to stay near their favorite surf breaks while on the road, they finally decided to do something about it by creating surfbreakrentals.com. Their long-term goal is to also help localize the tourism industry, by making it easier for travelers to connect directly with the communities they visit instead of getting stuck in tourist traps. Surfbreak Rentals currently operates out of the back of one of their local surf shops, Proof Lab, located in Mill Valley California.
# # #
California Dreaming - Your Beach Home in Surf Paradise


House, 3 Bedrooms + Loft + Den, 2.5 Baths (Sleeps 7-14) Keywords : Luxury beach home located in the sought after downtown area of Huntington Beach, USA's official 'Surf city' close to beach, boardwalk, shopping, restauranats, nightlife Plan your family dream vacation in the sun and surf capital of California world famous Huntington Beach. This luxury beach home is steps away from the surf and sand in an exclusive location, and a short walk to restaurants, shopping and nightlife. The ultimate in home-from-home comfort with every need catered for, even providing big screen televisions with cable, DVD and high speed wireless internet for your laptop. The Dreamwave Beach House is a three bedroom plus fourth loft bedroom that sleeps 4-12. Open plan layout with first floor tiled throughout. The Parlor with fireplace, flat screen HD tv and french windows leading to a petite but charming lawned garden. The dining room with its high ceiling and impressive skylight, seats ten.
Price: $ 2,400
Location
Huntington Beach
, USA
Newport Beach, California Vacation Rentals, SoCal Cottage (Newport Beach


and bars,
shopping. One of the best surfing spots in Orange County. Twenty minutes
Price: $ 800
Location
Los Angeles, USA
The script is installed correctly. Please login at
seoslave.com
to configure your website.