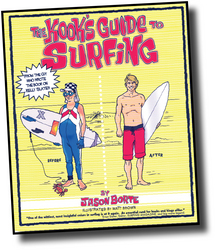 Virginia Beach, VA (PRWEB) November 5, 2010
Surfing is embedded in the American psyche. We listen to surfing music, wear board shorts and occasionally wipe out especially after catching one from the Big Kahuna. But only a couple of million Americans can actually, really surf. The other 328 million of us are kooks wannabe surfers destined to ride the beach forever. Until now. Champion pro surfer, surfing instructor and author Jason Borte is changing all that with his latest book, The Kooks Guide to Surfing. Its the witty, entertaining how-to manual for the surfer in all of us.
Anyone can surf, Borte states confidently. He knows that because hes taught thousands at his Surf Camps. Most people don't, mainly because they believe that riding waves is difficult and dangerous, he says. Learning to surf can be the most enjoyable and memorable experience of your life.
From illustrated step-by-step lessons on how to surf to surfing etiquette to a glossary of surfing terms, Borte (with his tongue firmly planted in his cheek) knocks the kook out of us and offers up tidbits of friendly advice like, Unstrap the leash when you get out of the water. The odds of a tsunami hitting you in the parking lot are slim to none.
Theres also plenty of practical information like the anatomy of a surfboard, choosing the right board, waves and how to pick the best ones, and a list of the best surfing locations around the globe. Theres even a section on surfing exercise and diet.
Borte acknowledges that his big hang up is surfing etiquette, or the lack of it. I wrote The Kooks Guide as much for surfers as for kooks, he says, referring to the 10-page chapter on good manners in and out of the water. Every surfer was a kook at one time. He proposes that Kooks are people, too and they deserve compassion.
The Kooks Guide to Surfing, 174-page fully illustrated trade paperback is available for $ 19.95 at Amazon.com or from your favorite surf shop.
About Jason Borte

His first book, Pipe Dreams: A Surfers Journey (HarperEntertainment 2003), appeared on the New York Times bestseller list for hardcover nonfiction. A former editor for Surfer, Surfing, Explorations and Swell.com, his articles have also appeared in Eastern Surf, Transworld Surf Business, Water, Mundo Rad, Flow (Japan), Tripsurf (France), Adrenalin (England), and Australian Surfing Life. Most recently, his work appeared in The Mountain and the Wave, The Quiksilver Story (Chronicle 2006), The Best of Surfer Magazine (Chronicle 2007), and Pipeline: Deep Inside The Worlds Most Respected Wave (Surfline 2008). He lives in Virginia Beach, Virginia with his wife and son.
For more information and reviews visit http://www.kooksguide.com.
Friend Jason Borte on Facebook at http://www.facebook.com/pages/THE-KOOKS-GUIDE-TO-SURFING/128258323883573
Watch an interview with Kooks Guide author and pro surfer, Jason Borte, at

http://www.youtube.com/watch?v=r-_Z9NaocLk&feature=player_embedded
For review copies contact the author at jborte(at)yahoo(dot)com
To interview Jason Borte call 757-285-9277
Fun facts & quotes from The Kooks Guide to Surfing:

seoslave.com
to configure your website.