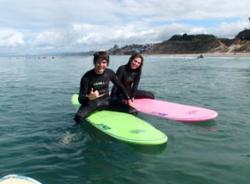 Santa Cruz, CA (PRWEB) June 15, 2011
Families keen on learning to surf this summer will find quality instruction with surf camps in the iconic beach town of Santa Cruz. Located on Californias Central Coast, approximately 40 miles north of Monterey and 70 miles south of San Francisco, Santa Cruz is home to surfboard shapers, wetsuit makers, a surfing museum, and some of the best surf breaks on the West Coast (including some great beginner waves). Two surf schoolsClub Ed Surf School and Richard Schmidt Surf Schoolhave been teaching surfing for two decades and both offer week-long surf camps for kids and adults throughout the summer. Two hour group lessons and private lessons are also available.
With Club Ed Surf Camps, campers can camp on the beach and surf to their hearts content with the waves just steps from their campsite. Beginning and experienced surfers alike progress quickly under the instruction of founder Ed Guzman and his team. The camp's location on the Monterey Bay National Marine Sanctuary provides the opportunity to catch sight of dolphins, seals, and sea otters while skimming the waves. In addition to surfing, campers can play ping-pong, beach volleyball, or relax by the campfire. Club Ed also leads excursions to the Santa Cruz Beach Boardwalk, Santa Cruz Surfing Museum, Arrow Surfboard Factory and summer movies.
The camps are $ 1,090 per week and includes six days and five nights of camping, daily surf instruction, three meals each day, a professional massage, and an edited video with highlights from the week. Club Ed also provides surfboards, wetsuits, and tents. The first camp of the summer, which runs June 19-24, is designated for adults only. The remaining six sessions are geared for kids ages 12 and up, although adults are welcome.
Richard Schmidt's surf camps are based out of the KOA Kampground in La Selva Beach near Watsonville, giving campers access to KOA's pool, hot tub, and hot showers. Campers receive five solid days of surfing instruction, with two sessions daily. Campers also receive video coaching in addition to instruction in the water to help them progress more quickly. When theyre not in the water, campers are treated to yoga classes each morning, gourmet meals, sports massage, and tours of the Seymour Long Marine Lab, Santa Cruz Surfing Museum, and Arrow Surfboard Factory. Manresa State Beach is a stones throw away from the campground.
The camps are $ 1,000 per week and include six days and five nights of camping at KOA, daily surf instruction, three meals each day, yoga classes, sports massage, and recreational activities. Richard Schmidt also provides surfboards, wetsuits, tents, and transportation to and from the beach. Beginning June 19, the week-long camps are open to kids ages 10 and up, although adults are welcome. The last camp of the season, August 7-12, of the summer is designated for adults only.
For more information on surfing lessons, surfboard and wetsuit rentals, and surfing-related attractions in Santa Cruz, visit http://www.santacruz.travel or call 800-833-3494.
###
Huntington Beach, CA (PRWEB) May 08, 2012
Planning a standard vacation can be a hassle, but planning a surf trip can be even more stressful, with the added challenge of trying to figure out where to go to score the best waves. Surfline has met this challenge head on with the launch of its 2012 Summer Travel Resort Guide.

The guide is a valuable reference tool for all surfers -- every piece of information you need for 33 of the world's best surf resorts and charters is at your fingertips. Each resorts section features four parts: an overview, a list of amenities, a detailed description of the surf, and copious amounts of photos/video. If youre looking for more specific information or would like to ask the manager a question, you can take advantage of the guides direct line of communication with each resort or stay in the loop via their Twitter feed.
Of course, being Surfline, the Travel Resort Guide also offers trusted wave and swell forecasting. General forecasts for the four main summer surf regions -- Mexico/Central America, South America, Pacific Islands, and Indian Ocean -- are displayed, along with an in-depth description of each region. Plus, an up-to-date surf spot forecast is included next to the surf description. As an added bonus, the guide includes several resourceful links to pages with travel tips, current boardbag charges, forecaster Best Bets, Travel Newsletters and Premium Surf Travel Discounts.
With Surflines new Travel Resort Guide comes the opportunity for individuals of all walks of life to plan the perfect surf getaway. Marcus Sanders, Editor at Surfline.com, explains, "If you want to stay at a surf resort this summer, there's no better place online to compare, research, and plan your trip."

Destin, FL (PRWEB) July 22, 2012
Home & Away recently reported that August is the most popular month for travel as families work to squeeze in one more trip before the kids go back to school. Travelers who select a beach vacation along sugar white sand beaches of Destin, Florida will benefit from the late summer value season. Newman-Dailey Resort Properties, a premier South Walton and Destin vacation rental company, is featuring rentals at up to 30 percent off for those who stay between Aug. 6 and Sept. 2, 2012.
"We know it's hard to find time to get away," said Jeanne Dailey, owner of Newman-Dailey Resort Properties. "Our goal is to make our guests' dreams a reality and getting away with friends and family for a summer beach vacation affords them important time to relax and reconnect."
Renown for the emerald green water and pristine beaches, Northwest Florida is an oasis for beach lovers. Watersports range from stand up paddle boarding and jet skis to new sports such as kite surfing and flyboarding. New activities, including a Pirate Cruise in Destin, SunVenture catamaran tours to Crab Island and a $ 4 million renovation at Gulfarium Marine Adventure Park, ensure there is plenty adventures to experience beyond the beach.
Newman-Dailey vacation rentals range from well-appointed Destin beach condos to spacious Destin and South Walton rental homes. Newman-Dailey manages several Destin Resorts, including Jade East Towers and Hidden Dunes Beach & Tennis Resort, recently ranked in the top 50 tennis resorts by Tennis Resort Online.
As an added bonus, guests who book with Newman-Dailey also receive a gift card good toward area activities, including golf, Big Kahuna's Waterpark, free movie rentals and more. Newman-Dailey also provides seasonal beach service as well as special offers for recreational activities and dining, including 20 percent off the SOLARIS dinner cruise.
For more information and a full list of Newman-Dailey vacation rentals, visit http://www.DestinVacation.com or call 1-800-225-7652.

xml:lang="en" lang="en" xmlns="http://www.w3.org/1999/xhtml">

Hot New Places to go Surfing this Summer












Chino Valley, AZ (PRWEB) April 27, 2010
Xoxxi, the leading independent Surfing Travel Company specializing in surfing vacations, has launched this spring over 15 fresh new surfing vacations, a number of which are groundbreaking in the United States and in doing so has doubled its capacity.
The launch sees a focus on a range of surfing vacations aimed at professional people who work hard and play hard and want a guaranteed quality surfing vacation.
"The market for surf vacations has changed, and our new products will reflect that," says the operations manager Rod Green. "Like it or not, the days of surfers living a feral existence on far flung exotic beaches are becoming a thing of the past – many surfers today are professional executives who expect high quality products, from accommodation to world class waves, and we are dedicated to providing that".
This will mean a change to some of the locations that the company offers, although not a change in the quality of the surfing. "Whether it's Florida, Hawaii or the Indian Ocean, all out surfing destinations provide absolutely quality waves, with a range to suit everyone from novice to expert," says Rod.
Xoxxi is also committed to the natural environment - the very essence of the product they sell. Last year the company donated some of its profits to environmental and charity organisations worldwide.
"2010 is set to be the year Xoxxi really takes off," added Rod Green. "I'm confident we offer people wanting to surf and existing surfers the best products, the best destinations and the best surfing vacations on the planet".
Novel and innovative, this is an online company that has invested heavily in a high speed, interactive website. On this site, Xoxxi provides instant bookings through a 3 step booking process, customers can also request a tailor-made quotation or request information via contacting the company.
New for the Month of May "Learn to Surf in California"

Surf Package to California for 5 nights from $ 915 per person
What are the hot new places to surf?

It has to be Maldives, Mexico, The Caribbean, Costa Rica and Nicaragua.
For example, Puerto Rico – may be a small destination but has a long coastline, easily accessible and great surf. Prices from 6 nights $ 1525 per person
For more information on Xoxxi visit http://www.xoxxisurf.com
For photography and media enquiries contact Rod Green on Phone: (928)-227-3002.
NOTES FOR EDITORS


    Xoxxi was established to become a world leading extreme and activity brand, it first product in this development is the Xoxxi Surf Travel brand.
    Customers who have surfed with Xoxxi include Olympic gold medal rower James Cracknell and various professional surf teams and international movie stars.
###








Attachments




©Copyright 1997-
, Vocus PRW Holdings, LLC.
Vocus, PRWeb, and Publicity Wire are trademarks or registered trademarks of Vocus, Inc. or Vocus PRW Holdings, LLC.
Now Booking Reservations for Summer!! Perfect Retreat, Community Pool


steps to the beach and is located at one of the best surf breaks on Carolina Beach. The property also
Price: $ 650
Location
Wilmington, USA
The script is installed correctly. Please login at
seoslave.com
to configure your website.