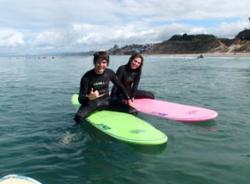 Santa Cruz, CA (PRWEB) June 15, 2011
Families keen on learning to surf this summer will find quality instruction with surf camps in the iconic beach town of Santa Cruz. Located on Californias Central Coast, approximately 40 miles north of Monterey and 70 miles south of San Francisco, Santa Cruz is home to surfboard shapers, wetsuit makers, a surfing museum, and some of the best surf breaks on the West Coast (including some great beginner waves). Two surf schoolsClub Ed Surf School and Richard Schmidt Surf Schoolhave been teaching surfing for two decades and both offer week-long surf camps for kids and adults throughout the summer. Two hour group lessons and private lessons are also available.
With Club Ed Surf Camps, campers can camp on the beach and surf to their hearts content with the waves just steps from their campsite. Beginning and experienced surfers alike progress quickly under the instruction of founder Ed Guzman and his team. The camp's location on the Monterey Bay National Marine Sanctuary provides the opportunity to catch sight of dolphins, seals, and sea otters while skimming the waves. In addition to surfing, campers can play ping-pong, beach volleyball, or relax by the campfire. Club Ed also leads excursions to the Santa Cruz Beach Boardwalk, Santa Cruz Surfing Museum, Arrow Surfboard Factory and summer movies.
The camps are $ 1,090 per week and includes six days and five nights of camping, daily surf instruction, three meals each day, a professional massage, and an edited video with highlights from the week. Club Ed also provides surfboards, wetsuits, and tents. The first camp of the summer, which runs June 19-24, is designated for adults only. The remaining six sessions are geared for kids ages 12 and up, although adults are welcome.
Richard Schmidt's surf camps are based out of the KOA Kampground in La Selva Beach near Watsonville, giving campers access to KOA's pool, hot tub, and hot showers. Campers receive five solid days of surfing instruction, with two sessions daily. Campers also receive video coaching in addition to instruction in the water to help them progress more quickly. When theyre not in the water, campers are treated to yoga classes each morning, gourmet meals, sports massage, and tours of the Seymour Long Marine Lab, Santa Cruz Surfing Museum, and Arrow Surfboard Factory. Manresa State Beach is a stones throw away from the campground.
The camps are $ 1,000 per week and include six days and five nights of camping at KOA, daily surf instruction, three meals each day, yoga classes, sports massage, and recreational activities. Richard Schmidt also provides surfboards, wetsuits, tents, and transportation to and from the beach. Beginning June 19, the week-long camps are open to kids ages 10 and up, although adults are welcome. The last camp of the season, August 7-12, of the summer is designated for adults only.
For more information on surfing lessons, surfboard and wetsuit rentals, and surfing-related attractions in Santa Cruz, visit http://www.santacruz.travel or call 800-833-3494.
###

xml:lang="en" lang="en" xmlns="http://www.w3.org/1999/xhtml">

Hot New Places to go Surfing this Summer












Chino Valley, AZ (PRWEB) April 27, 2010
Xoxxi, the leading independent Surfing Travel Company specializing in surfing vacations, has launched this spring over 15 fresh new surfing vacations, a number of which are groundbreaking in the United States and in doing so has doubled its capacity.
The launch sees a focus on a range of surfing vacations aimed at professional people who work hard and play hard and want a guaranteed quality surfing vacation.
"The market for surf vacations has changed, and our new products will reflect that," says the operations manager Rod Green. "Like it or not, the days of surfers living a feral existence on far flung exotic beaches are becoming a thing of the past – many surfers today are professional executives who expect high quality products, from accommodation to world class waves, and we are dedicated to providing that".
This will mean a change to some of the locations that the company offers, although not a change in the quality of the surfing. "Whether it's Florida, Hawaii or the Indian Ocean, all out surfing destinations provide absolutely quality waves, with a range to suit everyone from novice to expert," says Rod.
Xoxxi is also committed to the natural environment - the very essence of the product they sell. Last year the company donated some of its profits to environmental and charity organisations worldwide.
"2010 is set to be the year Xoxxi really takes off," added Rod Green. "I'm confident we offer people wanting to surf and existing surfers the best products, the best destinations and the best surfing vacations on the planet".
Novel and innovative, this is an online company that has invested heavily in a high speed, interactive website. On this site, Xoxxi provides instant bookings through a 3 step booking process, customers can also request a tailor-made quotation or request information via contacting the company.
New for the Month of May "Learn to Surf in California"

Surf Package to California for 5 nights from $ 915 per person
What are the hot new places to surf?

It has to be Maldives, Mexico, The Caribbean, Costa Rica and Nicaragua.
For example, Puerto Rico – may be a small destination but has a long coastline, easily accessible and great surf. Prices from 6 nights $ 1525 per person
For more information on Xoxxi visit http://www.xoxxisurf.com
For photography and media enquiries contact Rod Green on Phone: (928)-227-3002.
NOTES FOR EDITORS


    Xoxxi was established to become a world leading extreme and activity brand, it first product in this development is the Xoxxi Surf Travel brand.
    Customers who have surfed with Xoxxi include Olympic gold medal rower James Cracknell and various professional surf teams and international movie stars.
###








Attachments




©Copyright 1997-
, Vocus PRW Holdings, LLC.
Vocus, PRWeb, and Publicity Wire are trademarks or registered trademarks of Vocus, Inc. or Vocus PRW Holdings, LLC.

xml:lang="en" lang="en" xmlns="http://www.w3.org/1999/xhtml">

Explore Halifax Outdoor Activities this Spring













Halifax, NS (Vocus/PRWEB) March 29, 2011
Spring is in the air in Halifax, Nova Scotia. With a roster of Halifax outdoor events promoting healthy active living, it's easy to find new ways to enjoy the fresh ocean air in Halifax.
Runners of all levels can take part in the Credit Union Atlantic Lung Run (April 09) along the Halifax waterfront, raising funds for the Lung Association of Nova Scotia.

Halifax outdoor adventures also include an eco-adventure in the Hubbards area, the 2011 Eco-Endurance Challenge (April 30 - May 01), a challenging navigational event through trails and forests. All profits will go to the Halifax Regional Search and Rescue. One of Halifax's marquee annual events is the Scotiabank Blue Nose Marathon (May 20 - May 22) where as many as 10,500 runners and walkers will take to the streets of Halifax and Dartmouth in a celebration of healthy active living.
Easy access to nature is one of the joys of visiting Halifax. Looking for more Halifax outdoor adventure? The sandy beaches of the Eastern Shore have some of the best surfing waves in Canada. Check out a Halifax Visitor Guide to discover the many great surfing spots or where to go tidal bore rafting along the highest tides in the world. If you're planning a more low-key activity, try sea-kayaking along the tranquil shores of St. Margaret's Bay, hiking the wooded trails of the many provincial parks or hitting the links at some of the Halifax area golf courses. Halifax is the perfect home base for a Nova Scotia vacation with many day-trip outdoor activities within an hour of the city.
Destination Halifax's itinerary builder makes it easy to plan a trip to Halifax this spring. Scroll through upcoming events, attractions, Halifax vacation packages, restaurants and Halifax hotels on Destination Halifax's website and add to a shareable online itinerary that also includes a customized event option. During a visit, finding out where to go and what to do is simple. Visit Destination Halifax's mobile site http://www.halifaxmobi.com on any smartphone or pick-up a Nova Scotia Travel Guide to discover all the activities in Halifax.
For more information about visiting Halifax Nova Scotia, visit http://www.destinationhalifax.com or http://halifaxmobi.com.
About Destination Halifax

Destination Halifax is a partnership of the Province of Nova Scotia, the Halifax Regional Municipality, the Hotel Association of Nova Scotia, the World Trade and Convention Centre, and participating industry members. Since its inception in 2002, Destination Halifax has operated with a goal of promoting the Halifax Regional Municipality as a year-round destination of choice for business and leisure travelers.
Contact

Emily Kimber

Destination Halifax Communications Manager

P: 902-423-1133 E: ekimber(at)destinationhalifax(dot)com
###
©Copyright 1997-
, Vocus PRW Holdings, LLC.
Vocus, PRWeb, and Publicity Wire are trademarks or registered trademarks of Vocus, Inc. or Vocus PRW Holdings, LLC.
London, UK (PRWEB) January 28, 2008
Where did the celebrities go in their private jets for their winter vacations? ResortWorld.com reveals the beautiful locations, private yachts, and luxury resorts that hosted the rich the famous A-List this winter. Be it sun or snow, these are the places to be.
The Caribbean is an ever popular place in the sun for the rich and famous and St. Barts is the most fashionable Island for celebrities. 2008 New Years was no exception. Many stars toasted the New Year aboard luxury yachts in Gustavia harbor.
Paul Allen's yacht 'Octopus' played host to Billy Joel and his wife Katie, Steven Speilburg, Kate Capshaw, Russel Simmons and girlfriend Porschla Coleman. Martha Stewart and boyfriend Charles Simonyi hosted friends on his luxury yacht and Denzel Washington partied on Ron Perelman's yacht.
Some other celebrities visiting St. Barts included Linda Evangelista, Nicolette Sheridan, Michael Bolton, Billy Zane & Kelly Brook and Billionaire George Soros. Liam Neeson and wife Natasha Nichardson also routinely take pleasure in visiting the Caribbean for Christmas. The couple relax at Anguilla's exclusive Cap Juluca Luxury Resort with their two sons.
Google founder Larry Page married Lucy Southworth on Necker Island in the British Virgin Islands. Necker Island is a private island available for rent and is owned by Virgin founder Sir Richard Branson. The island hosts about 100 people, so the rest of the 600 plus wedding party reportedly stayed at an exclusive luxury resort on Virgin Gorda called Rosewood Resort Little Dix Bay.
The happy couple's wedding guests included no less than President Clinton and Hillary Clinton, Bono from band U2, Google's Tim Armstrong and Sir Richard Branson, who acted as best man.
Earlier in the year Brad Pitt and Angelina Jolie also enjoyed a well deserved Caribbean vacation. They stayed at a luxury resort called Caneel Bay Resort in the Virgin Islands. The talented couple also enjoyed a quiet family holiday in the luxury hotel Burj Al Arab in Dubai in 2007.
Music mogul Simon Cowell, from American Idol, also typically jets off to the Island of Barbados each Christmas, and this time he stayed at Sandy Lane beach resort. Retail mogul Sir Phillip Green was also in Barbados with his wife Tina and two children.
Catherine Zeta-Jones, husband Michael Douglass, and their two children traditionally spend an extended family Christmas in Bermuda.
This winter, Madonna spent her vacation in the Maldives, reportedly at the luxury resort & spa Soneva Fushi with husband Guy Ritchie and family. She then flew on to India for New Years.
Hawaii has become the location of choice for some of the younger set. Both Paris Hilton & family and Adam Sandler & family enjoyed respective vacations in the surfing paradise this year.
The rise of luxury resort vacations 'Down-Under' was a new theme this year. Following a successful Police Reunion Tour, rock icon Sting treated the family to Australia for a New Year's yacht charter in Sydney. Elle 'The Body' MacPherson relaxed at home in sunny Australia, along with fellow Aussie babes Kylie and Danni Minouge.
One the Google co-founders visited the recently completed Fossil Cove on Waiheke Island, New Zealand and there are also murmurs he purchased a vineyard in the Wairarapa. In December, another tech giant, Bill Gates, also visited Northland in New Zealand. Recently, Johnny Depp holidayed at the Coromandel Peninsular, New Zealand, whilst visiting fellow 'Pirates of the Caribbean' stars Geoffrey Rush and Bill Nighy.
Many celebrities left the hot sun behind and headed for luxury ski resorts & villas in the snow this winter. Actor Will Smith and wife Jada Pinkett embarked on Smith's annual New Year's Eve bash in Aspen, the place to be for ski-lovers. Jack Nicholson is also a regular in Aspen each year where he spends time with his children, decorating his Victorian home with lights. Meanwhile, another Aspenite actress Goldie Hawn is sometimes spotted there Christmas shopping for partner Kurt Russell and their son, Wyatt. Singer Mariah Carey also celebrates Christmas on the slopes, in Colorado.
If you would also like to experience the same luxury delights for your vacation, and more, visit www.ResortWorld.com
###
The script is installed correctly. Please login at
seoslave.com
to configure your website.