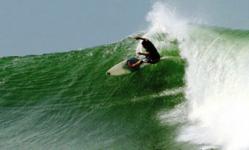 Cardiff-by-the-Sea, CA (PRWEB) March 28, 2012
SurfingList Travel, a full service surf travel agency, is now offering clients premium surf camps to destinations in El Salvador, Nicaragua, Baja Mexico, and Mainland Mexico via a new partnership with Adventure Sports Tours (AST) and Baja Surf Adventures. Each surf camp offers amazing waves, premium accommodations, excellent food, ground transportation, and full time english speaking surf guides for an exceptional surf travel experience.
"I just returned from a multi-country surf tour through Nicaragua and El Salvador with AST. I was totally impressed by the accommodations, food, surf guides, and service at the three surf camps. Along with the amazing surf in front of each resort, they have taken the best items from surf camps around the world and incorporated this into the experience at each of their surf camps. After visiting their La Barra Nicaragua, Las Flores El Salvador, and La Libertad El Salvador surf camps, each is highly recommended for an unforgettable surf trip", said Brett Hollman, owner of SurfingList, LLC and SurfingList Travel.
The La Barra surf camp in Puerto Sandino, Nicaragua offers access to many great waves such as La Barra, Punta Miramar, Pipes, and Chicken Bowls. The surf camps has boats and guides ready to take you to the waves of La Barra which offer an amazing lefthand barrel. Chicken Bowls is a machine-like lefthand barrel that breaks directly in front of the surf camp with Punta Miramar and Pipes a few hundred yards down the beach. The accommodations are in a four bedroom surf house with all the amenities such as pool, hammocks, decks overlooking the waves, TV/DVD, ping ping table, and much more. The food is exceptional with excellent service from the surf guides and staff.
The Las Flores surf camp is located just outside of El Cuco, El Savador. The hotel is situated on top of the point overlooking the waves of Las Flores. The surf camp provides surf guides and boat service to many other waves such as the famous Punta Mango which is an epic righthand barrel. The accommodations are in an air conditioned multi-room hotel with all the amenities such as the pool and hammocks which directly overlook the waves and surfers of Las Flores. Excellent food and service from the staff and surf guides is part of the experience here as well.
The surf camp in La Libertad, El Salvador is home to some of the most famous waves in Central America such as Punta Roca, Sunzal, La Paz, K-59, and many other world class righthand point breaks. This beautiful hotel owned by AST sits on the beach overlooking the perfect righthand points of Punta Roca and La Paz for easy access to these waves. The surf guides can also take you by truck to the many other epic righthand point breaks in the area. The third level of the hotel has a bar and restaurant with an exceptional menu where you order whatever you want to eat as part of the surf camp package. The guides, staff and service at this hotel are impeccable.
The surf guides for the surf camps in El Savador and Nicaragua work for AST and rotate through each of the three surf camps with local knowledge of the waves, people and surrounding towns. Each of the surf guides speak English and provide a great level of service from access to the waves to going out on the town with their client's for shopping, errands, or nightlife.
The surf camps in Mexico are run by Baja Surf Adventures which also partners with AST. The Baja surf camp is within a few hours of the US border. Pickup on the US side of the border is arranged by SurfingList Travel. Once there, accommodations, guiding, and meals are included. Many of the great waves of Northern Baja are accessible from this surf camp which sits on a righthand point break. As for the Mainland Mexico surf camp, it is located in Salina Cruz and is home to many epic righthand point breaks and barrels as well. This surf trip also includes ground transportation, accommodations, surf guides, and meals.
SurfingList Travel is known for excellent customer service coupled with high quality surf trips to it's clients to destinations such as El Salvador, Nicaragua, Mexico, and Chicama, Peru. They offer a full service surf travel agency with services including air, ground transportation, accommodations, surf guides, and travel insurance for your surf trip.
About SurfingList LLC:

SurfingList LLC, parent of SurfingList Travel and SurfingList.com, is committed to being a full service surf travel agency providing the best surf trips available to its clients while its website SurfingList.com provides a free environment where surfers can buy or sell used surfboards and surf equipment, find free surf reports and forecasts, rent beach vacation rentals near the surf, and find surf travel information and services.
seoslave.com
to configure your website.